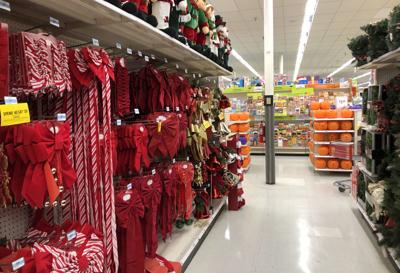 Our culture makes it increasingly difficult to be present-it's so future go -go -go oriented. Doesn't take much to realize this. Just head to the grocery store.
It was the fourth week of September, I had noticed a silly faced pumpkin trick or treat container that I wanted to get for Z. When I got to the aisle, it had already been replaced. Halloween was more than a month away! I had figured I had time and that they would restock. They did not.
On a whim I decided to look for more fall decor in the back seasonal section, I turned the corner not to find fall items but . . . you guessed it- Christmas!
Now, I get it when you are in a craft supply store, I understand you want to create the gift, present, or decorations ahead of time to display for the next season.
But what I saw were pre-made decor items, ornaments, wreaths, floor mats: the works.
You know what this tells buyers?  "Don't think about fall and forget about thanksgiving what you really need to be worrying about is Christmas! It's right around the corner! Hurry!"
It's so easy to give into this, to loose the beauty of this present moment.
I'll admit on the drive home I was almost panicking; madly planning for the holiday get together we host the beginning of December. I was creating a gift list for family, friends and co-workers, and thinking through my Christmas baking supplies.
I got home began writing ideas down on sticky notes and putting them into my organizer. But as I puts away the groceries I stopped.  Inhaling, I took a moment to look outside at the grey cool weather; the colorful fall leaves dancing on the branches in the wind. I exhaled and relaxed.
I looked over at the calendar: thank goodness it's only the first official day of fall!
That good news made me want to light my cinnamon and pumpkin candles, have a good cup of Chai Spiced Tea and be grateful for my boots and scarves: right here and now.
Do you hit the panic button when the holiday buzz hits? Or are you able to focus on what's right in front of you? How do you celebrate the season of fall?